Good Clean Karma soaps make every bath an uplifting experience - they smell wonderful, cleanse thoroughly, and rinse away clear!
Good Clean Karma is my hand-made Reiki-infused soap line. Sourced from the finest ingredients I can find — vegetable glycerin; essential oils, creams, and butters; healthy additives like oatmeal, milk solids, camomile, and sea kelp — and Reiki-infused with special intention at every step in the process. Small batch production means every bar is unique, formed in beautiful molds with themes of awareness, nature, and beauty, and individually packaged with hand-tied bows and descriptive tags.
Place your order by email right now!
Include your name, shipping address, the number of bars of each type you would like, and your PayPal billing address (or call me to provide a credit card number.) Shipments are sent within 24 hours of payment.
$650 for a single bar
$6 each for 2-6 bars
$5 each 7+ bars
Shipped by Priority Mail, a 6-bar order fits in the smallest box and costs $7.15. Larger orders ship for $13.60.
Wholesale pricing and custom orders also available for 30+ bars. Please contact me for details.
Milk & Honey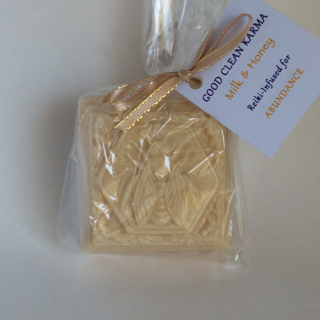 Golden and ripe as the sun's warmth, sustained with buttermilk and organic wild honey, bolstered with oatmeal flour and argan oil, enriched with the scents of amber, almond, musk, sandalwood, tuberose, and Reiki-infused for Abundance all aspects of your life
Nag Champa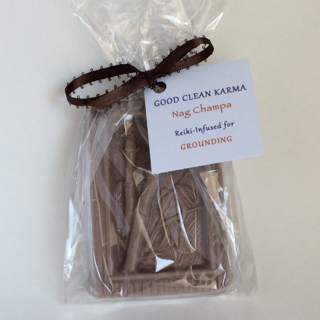 Earthy in scent and color, solidly centered with hemp, jojoba and argan oils, blossoming with calendula, sunflower and aloe leaf extracts, and sense-opening with traditional Nag Champa essential oil, this bar is Reiki-enhanced for Grounding in the present moment
Repose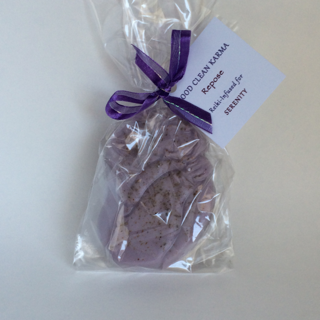 The hue of lavender in summer sun, with soothing shea, mango and cocoa butters and argan oil, calmed with chamomile and aloe leaf extract, supported by myrhh gum powder, nurtured by honey, touched by amethyst mica, with strawberry seed exfolliant, and scented with lavender, lotus flower and amber, and Reiki-infused for Serenity in the midst of life's challenges
Awakening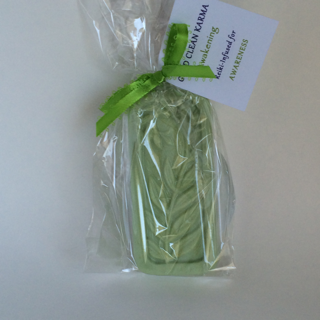 My newest creation features an invigorating scent comprised of cedarwood, lemongrass, tangerine, mint and cucumber, with nourishing oatmeal flour, milk solids, goat's milk, and jojoba oil for your skin, Reiki-infused for Awareness on every level to appreciate the wonders surrounding you
What People Say About Good Clean Karma Soaps
"I love love love these soaps! Speaking only for myself I really don't like body wash. I feel wasteful using it, as I can never get just the right amount like I can with a bar of soap. And yet the commercial soaps are all full of chemicals and crap I don't want on my skin. <3 this soap! Thank you Good Clean Karma! " — Scott Z, Lucky Dog Hot Sauce
"I LOVE these soaps and the all natural soapy goodness they provide. I have been using these soaps whenever I get a chance for years and am so glad they are available. I shall be making my purchase soon!" — Billie Greenlaugh